Remember in November: Memorial events are as unique as the person being remembered.
The Irish funeral happens quickly – an intensely emotional and busy few days that offer deep consolation to some but can feel disorientating in its speed.  The Irish funeral is rich in tradition and ritual, these rituals are centuries old and create an emotional cocoon around those in mourning which carries them through the days after their loved person has died, when life will never be the same again.
 We are known throughout the world for the way in which we 'celebrate' funerals which combine religious, social, sacred and secular rituals and rites – from the last rites, to the wake, the funeral mass to the reception.  There is a long and fascinating cultural history to the way we do funerals in Ireland – but more on that another time (honestly, anyone who knows me, knows I could talk about this for hours!)
But what if tradition and this quick way of marking the end of someone's life doesn't fully serve all our needs in terms of equipping us for bereavement.  Maybe the concept of a final goodbye within days is too much, too soon and some of us need more and varied ways to engage with the process of saying goodbye over time, marked with different milestones.
Although not so commonplace in Ireland yet, memorial events that take place some time after someone has died play a significant part of cultures in many countries around the world.  The passing of time allows people to come to terms with the shock of loss and enables the headspace for them to think about ways they might like to celebrate someone's life with a personalised and meaningful gathering. 
For people who celebrate a loved one's life in the context of a religious ceremony or church serivce, they can find comfort in the tried and true religious ceremony and timeline.  However, for those of other faiths or not following a traditional faith path, there are many meaningful ways to hold a ceremony or occasion in which a loved's one life is celebrated in a bespoke way, unique to that person.
Many people in Ireland suffered a loss, or perhaps several, during the pandemic and were restricted in the numbers that could attend their loved one's funeral.  They were further restricted by the ways in which they could observe traditions and support each other in grief.  This is where a memorial event or ceremony can play a powerful part in coming to terms with that unique loss. People who had a restricted funeral deserve to revisit those missing parts of the funeral and have a memorial event in whatever way is meaningful to them.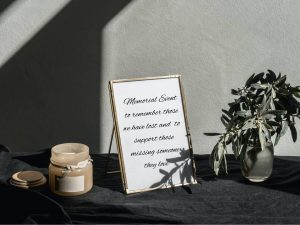 Memorial events are a beautiful way to honour and remember someone special and there is no limit to how creative and personalised they can be.  Here are just some of the ways:
A wake: For many the wake was one of the biggest losses during the pandemic.The social gathering is a very important event when stories are shared, bonds deepened and memories created.  An anniversary wake would make a beautiful memorial event complete with food, music and mementos of the person.
Planting Trees or a Garden: Create a lasting tribute by planting trees, flowers, or a garden in honour of the person. Attendees can be invited to help with the planting.Year after year the garden will grow and blossom in a never-ending show of love to the person being remembered.
Candlelight Vigil: An evening of remembrance with candles lit in memory accompanied by music, readings, or shared stories.This can be powerful and healing ceremony for those in the throes of painful loss.
Charity or Volunteer Work: Organise a charitable event or volunteer day in honour of the person. It could be a cause they cared about or a community activity.
Exhibition or Performance: Showcase their favourite pieces of art, music, or poetry; a lovely way to celebrate their creative spirit and create an artistic event inspired by them themselves.
Memorial Service or Ceremony: A formal gathering where friends and family can share stories, read poems, or perform music that was meaningful to the person.
Memory Book or Scrapbook: Create a collective memory book where friends and family can contribute stories, photos, and mementos.This can be a lovely bonding event for children in the family or for a group of friends.
Walk or Outdoors Event: Organise a walk or run in their memory, perhaps raising funds for a cause they supported.Spending time in nature offers healing and beautiful opportunities to connect people in conversation.
Remember, the most important aspect of a memorial event is to provide a space for loved ones to come together, share their memories, and find comfort in each other's presence while reflecting the person's interests, passions, and the way they impacted the lives of others.
We all deserve to remember and be remembered, and we deserve to do so in our own unique and very personal ways.