Remember in November: It takes only one song to bring back a thousand memories 
"That's my song!"  "They're playing my tune!" Do you relate? How many of us have exclaimed like this when we're out with friends and our favourite song is played, or at a concert, when you hear that one amazing song that you've waited all evening for.
Music plays a really significant part in many of the most memorable moments of our lives – the big milestones – from hearing and singing "Happy Birthday" year after year, to the Christmas songs that evoke warm memories, the songs of those special summers of our youth, the music we choose for special occasions like weddings and of course funerals all take their place in the soundtrack of our lives. From the opening notes and words, they become the shortcut to remembering special times and special people.
Most of us will identify with the feeling of being stopped in our tracks by a song on the radio or when our Spotify algorithm catches us off guard with a reminder that someone is reaching out across the airwaves.  Like the white feather on the path or the robin in the garden, music floats into our lives to remind us to take a moment, just a few minutes, to remember, to attend to our memories and to connect with that loving warmth of remembrance.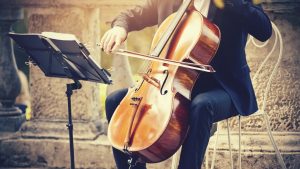 What is it about music that can move us so deeply when it comes to remembering someone?
Is it that words and music step in where our own words fail us?  Perhaps it's the skill of the storyteller and songwriter that so accurately, perfectly and sometimes painfully creates a safe cocoon to connect with big and powerful memories and emotions.  Music takes us by the hand and can walk us into moments of grief but also back out of it.  We surrender ourselves to the words and music – it can hold our pain while also soothing us with comfort.
Because music is such a powerful force for remembrance, it has become one of the most carefully considered aspects of a funeral. People make their music choices for many reasons, each one so carefully considered to play its part in the overall ceremony.  Good funeral music is a blend of pieces that evoke the memory of the person being remembered along with pieces to comfort and console those in grief. 
Choosing music for a funeral, some things to consider:
1. Personal Connection: a specific song or piece of music associated with a loved one can instantly bring back the feelings and memories of that person, bringing them into the room with us, maybe raising a smile and setting us at ease.  To include their favourite song or a song they were known to perform is a beautiful way to give new meaning to that piece. 
2. Tribute and Celebration: Music can be used very effectively to celebrate a loved one's life and their passions. There are so many songs and pieces of music to evoke many personal interests, passions, values and attributes of a loved one and can underpin a funeral with personalised meaning about what was important to the person.
3. Comfort and Healing: Music can provide comfort and solace during times of grief. Soothing or spiritually uplifting songs can help ease the pain and provide a sense of healing and closure.  Songs and pieces chosen in this way can go on to be a touchstone that people return to in the weeks and months following a loss when they need the emotional comfort of that music.
4. Shared Memories: Listening to music that you and the person who has died enjoyed together can foster a sense of connection and shared experiences, allowing you to reminisce about the good times you had together.
5. Ritual and Tradition: Most cultures have specific funeral music traditions. In Ireland the inclusion of a lament or solemn instrumental piece is a poignant aspect of a funeral ceremony that allows for a collective moment of reflection and togtherness in the pain of loss.  Participating in these traditions can help in the grieving process and provide a sense of cultural connection.
Shakespeare famously wrote "If music be the food of love, play on".  Although written for a very different context, the sentiment that music can be an ever present and everlasting way to express love is so true when we use it to remember someone and precious times with them.  Creating a playlist of songs that remind you of your loved one can allow you to carry them with you.  It can become a soundtrack to help you remember with affection, offer consolation when it's needed and something you can continue to add to over time as you remember new songs and discover new pieces that you might have enjoyed and shared.
We compiled this playlist, Songs to Remember Someone By, for anyone who needs a little music to help ease them through moment of remembrance.  It's a blend of emotional but easy listening, gentle and lyrical well-known songs that soothe the soul while tugging at the heart strings.
Louise
If you or someone you love is struggling with bereavement the following signposted service, resources and organisations may help: